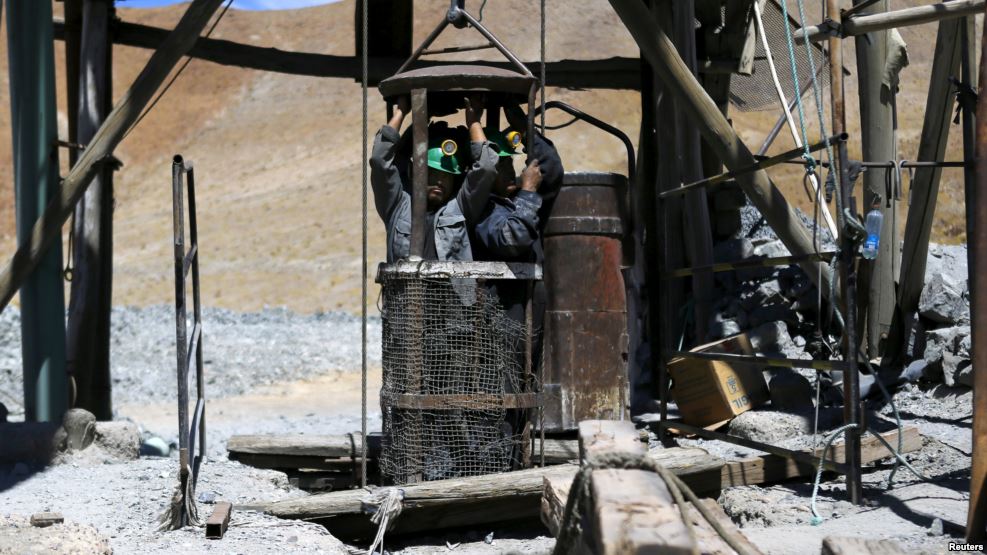 (www.voanews.com)
SANTIAGO, CHILE —
Mining companies in Chile, by far the world's largest copper producer, are examining their energy contracts to see whether they can renegotiate terms to incorporate now-cheaper renewable power, company sources say.
The mines, long reliant on coal and gas to power everything from milling to drilling, are inviting a broad range of wind and solar producers to major energy tenders for the first time.
The shift away from dirty energy in some ways reflects the unique situation of Chile, which has virtually no local gas or coal reserves, but a long, arid coastline amenable to wind and solar power.
But it is also a response to technology-driven declines in worldwide renewables prices, which at times are allowing clean-energy generators to undercut fossil fuel providers even in countries like Chile with no significant subsidies.
Companies like Spain's Acciona Energia and Ireland's Mainstream are set to benefit from the change. The moves could also imply major cost savings for Chile's copper industry, which spends around 20 percent of overhead on energy, according to Chile's mining industry body.
Traditional firms diversifying
Traditional power companies, however, such as Colbun, AES Corp.'s Latin American arm AES Gener, and Engie Energia Chile risk losing out, and are diversifying into renewables to remain competitive.
Until 2014, nearly all of the nation's public and private energy contracts went to gas, diesel, hydroelectric and coal generators.
Wind and solar firms slowly began submitting competitive bids for power contracts. By August of this year, they had scooped up around half of tendered energy in a massive, 12.3 terawatt government auction to supply Chile's public grid beginning in 2021.
The renewables firms undercut bids by traditional producers by more than 70 percent in some cases in that auction, catching the attention of Chile's mining companies — which consume about a third of the country's energy, but only get 8 percent from wind and solar.
"Industrial customers are reviewing their contracts, they are anticipating tenders, they are trying to seize the moment and take advantage of this buyer's market," said Juan Francisco MacKenna, one of Chile's leading energy project and regulation lawyers.
No limits
Some mines are paying well over $100 per megawatt-hour on their most expensive contracts, while wind producers have offered 24-hour power for prices as low as $38 on Chile's public grid.
State-owned copper giant Codelco, hit by slumping copper prices, is re-examining terms with energy providers as part of a wider contract review, Alvaro Aliaga, vice president of its northern division, told Reuters last month.
Others, including Antofagasta, are also looking to revise their energy contracts, some of which expire as late as the 2030s, said four sources familiar with the energy contracting strategy of Chile's largest mining companies.
Antofagasta declined to comment, but a document released by the company Monday noted that low prices at the public power auction implied energy cost savings.
Some contracts are more flexible than others, the four sources said, but the goal would be to make pre-expiration changes to cheaper renewables or pressure traditional suppliers to lower their prices.
The mining companies would most likely take advantage of scheduled renegotiation periods where they exist, they said.
Still, some energy negotiation professionals said arbitration procedures were a possibility for particularly rigid and long-term agreements. Upcoming energy auctions for new supply contracts, meanwhile, are expected to feature many more renewables players than in the past.
For instance, the Collahuasi copper mine, a joint venture of Anglo American and Glencore, recently launched a tender for a 1.2 terawatt energy auction.
Solar-friendly bloc
Among those invited to bid, according to company and legal sources, are Spain's SolarPack, Mainstream and other foreign renewable providers, as well as traditional incumbents. The auction offers a novel solar-friendly daytime bloc, in which companies bid to provide energy only during daylight hours, one source with knowledge of the auction said.
Antofagasta will most likely launch an energy supply tender for a planned expansion of its Centinela mine next year, while Codelco will run one for a possible expansion at its Radomiro Tomic mine, two of the sources familiar with the energy contracting strategy of the companies said.
Traditional energy companies, in response, are moving toward renewables in an attempt to maintain their market share.
Engie Chile, majority owned by French natural gas and electricity supplier Engie, said in August that it would build 400 megawatts of solar capacity in Chile, and AES Gener CEO Javier Giorgio told Reuters the company was looking at incorporating renewables into coming mining bids.
"The company is going to pass from being strong in conventional energy to one that has a much more balanced mix between conventional and renewable energies," Giorgio said. "From our point of view, we're not willing to limit ourselves."