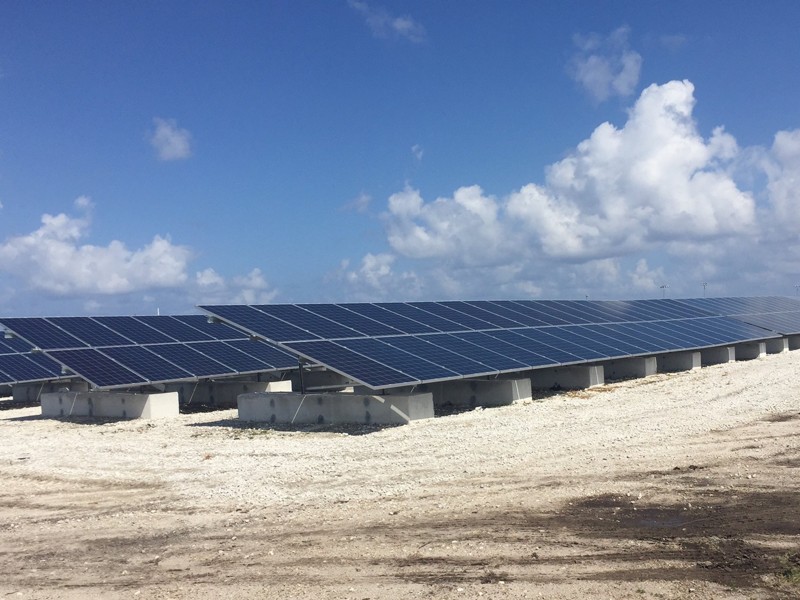 (www.palmbeachpost.com)

Standing on what once was a dusty landfill, long an eyesore off Washington Avenue, west of Lake Worth, City Manager Michael Bornstein finally raised the curtain on a new 5-acre solar energy field the city says can generate enough clean energy to power more than 250 homes and reduce carbon emissions by 4 million pounds — the equivalent of taking 400 cars off the road.
"Not too long ago, most people would've scoffed at the very thought that Lake Worth could pull off such a feat," Bornstein said during the 20-minute ribbon cutting ceremony attended by residents, city and Palm Beach County officials Tuesday. "Lake Worth's dedication of a 2 megawatt solar array sounds a heck of a lot better than, 'Welcome to the Lake Worth dump.'"
The field, which took less than a year to build, is the first step in what city officials say will be a long-term investment in solar energy.
"This is a major step toward renewable energy and bolstering the reputation of our electric utility," Mayor Pam Triolo said.
Lake Worth estimates it could eventually produce 10 megawatts of solar energy from the site, a move the city says would provide as much as 15 percent of the city's energy needs.
"We're seeking out ways to cover the rest of the landfill with panels," Triolo said.
Lake Worth boasts it's the first state municipality to own and operate a solar farm.
"This is a big deal," Bornstein said.
The field features three arrays made up of solar panels. There are a total of 6,900 panels that will account for 2 percent of the city's power generation needs, the city said.
As for how the city will pay for the project, Hector Samario, city infrastructure executive for Siemens, the German-based company Lake Worth partnered with on the project, said that answer is nothing.
"The savings that are generated year after year are what's used to pay for the project," Samario told The Palm Beach Post after the ceremony. "If the city saves $2 million a year, and if they only save $1.5 million, that half million has to be made up by Siemens so there is never any out of pocket to the city."
Lake Worth is not alone to jump on the solar energy bandwagon.
Talk of turning to solar energy in Lake Worth goes back about five years when the state put into legislation a process that allowed companies to work with local governments, giving them the opportunity to buy new equipment through energy savings.
"Renewable energy has come a long way from the days of being discussion points.," Triolo said. "It has evolved to become a practical and cost effective option on the list of power generating methods. This project makes every (Lake Worth) citizen part of the solar energy movement."