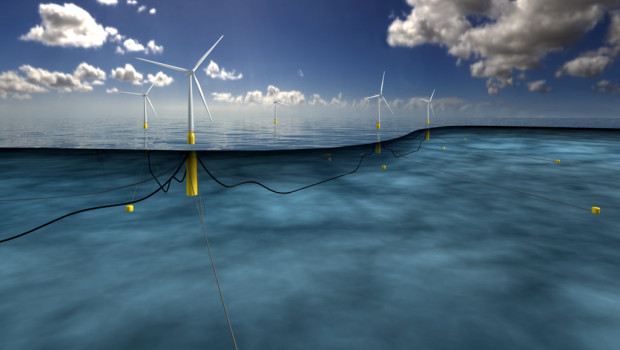 (www.cleantechnica.com)
Norwegian oil and gas company Statoil has agreed to divest 25% of its stake in the Hywind Scotland floating offshore wind pilot to Abu Dhabi's renewable energy company, Masdar.
The announcement was made at an official ceremony during Abu Dhabi Sustainability Week 2017, with Statoil agreeing to divest 25% of its stake in the 30-megawatt pilot project to Masdar. The Hywind Scotland pilot project will nevertheless be the world's largest floating wind farm when it is completed late this year. The Scottish Government approved plans by Statoil to develop the project back in late 2015.
The project is expected to be able to produce power for approximately 20,000 households.
"The Hywind Scotland pilot park has the potential to open attractive new markets for renewable energy production worldwide," said Irene Rummelhoff, Statoil's executive vice president for New Energy Solutions. "With Masdar onboard as a strong strategic partner we are teaming up with a company with high ambitions within renewable energy. We believe Masdar can be a strong partner also in future Hywind projects and we hope that our collaboration will result in future value creation opportunities for both parties."
"Masdar is excited to join the team developing the world's first floating wind farm, and to build on our partnership with Statoil," said Chief Executive Officer at Masdar, Mohamed Jameel Al Ramahi. "Hywind Scotland represents the next stage in the evolution of the offshore wind industry, combining the project management experience and technical expertise of one of the world's largest offshore energy players – and our own capabilities in renewable energy development acquired over the last decade in the UK and international markets.
"We see tremendous potential in the commercial application of floating offshore wind technologies."
The Hywind pilot is expected to cover approximately 4 square kilometers, about 25 kilometers off the coast of Peterhead in Scotland, in water depths of 95 to 120 meters. Floating offshore wind has the potential to generate affordable offshore wind energy while meeting specific requirements — generating in attractive offshore wind conditions in water depths beyond the reach of traditional offshore wind projects, and ensuring that offshore wind sites aren't seen from shore.
"We expect floating offshore wind farms to benefit from the general cost development within the offshore wind segment," Rummelhoff continued. "The objective of the Hywind Scotland pilot park is to demonstrate cost efficient and low risk solutions for future commercial scale floating wind farms. This will further increase the global market potential for offshore wind energy, contributing to realising Statoil's ambition of profitable growth in renewable energy and other low-carbon solutions."