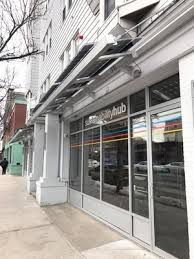 (www.wbjournal.com)
National Grid's Sustainability Hub, a center that teaches about energy use and sustainability just off the Clark University campus in Worcester, now has its own energy feature to show off.
The center unveiled a semi-transparent solar awning on Friday, which National Grid says is the first of its kind in Massachusetts.
The Sustainability Hub, at the corner of Hawthorne Street at 912 Main St., has attracted more than 8,000 visitors since it opened in 2013, according to the company. The 2,220-square-foot interactive space was donated by Clark.
The center has exhibits showing smart grid technologies and how people and manage and reduce their energy use, demonstrations of how smart meters work with home appliances, and community space for meetings.
Friday's event featured National Grid's president for Massachusetts, Marcy Reed, Clark University President David Angel, and Worcester City Manager Edward Augustus.