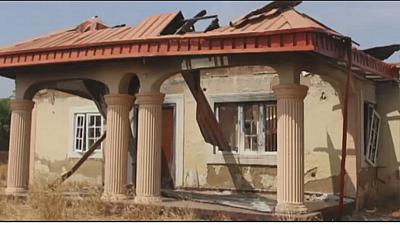 (www.africanews.com)
Vandalized houses in Gahara Mojiri, a village in Nigeria's northeastern Adamawa state, bear the hallmarks of militant Islamist group Boko Haram.
The houses were destroyed by the militants who raided people's homes and meted out attacks on residents in early 2015.
Many of those who fled the violence have since returned home since the militants lost most of the territories they took over from the Nigerian army.
Residents are now able to access clean water using solar powered water pumps and street lighting to help improve on security.
In an effort to help residents rebuild, the Energy Commission of Nigeria (ECN) and the UN Development Programme (UNDP) introduced solar panels in the village located in the Hong Local government area.
"Before the solar, we used to fetch water in the stream but since the solar comes we stop going to the stream because the solar gives us water so much," said Gahara Mojiri, Jacob Musa
"All the people of this community are benefiting from this borehole. One of the boreholes has stopped functioning properly, but we are hoping it will be fixed in time," added another Gahara Mojiri resident," Abraham Bulgumi.
Tapping renewable energy is helping tackle persistent energy shortages in the region as people work to develop themselves.
The solar panels have been set up in 8 villages, benefiting over 13,000 people. Residents are also now able to charge their mobile phones as well as use clean energy to light up their homes.
At the nearby Garaha Health centre, patients can access vaccines that were not available to them a few years ago. Joel Markus is the facility manager at Mojili Health Centre.
"There is even so many cases of hepatitis in this community now and the problem is because they did not have the vaccine earlier, so that is the cause of the problem they are having. But now since we have the vaccine, I believe the cases going to be less," ha said.
Though Nigeria's army has pushed the Islamist group back to its base, the militants still stage suicide bombings.
In recent years Boko Haram's attacks have spilled into neighbouring Niger, Cameroon and Chad.