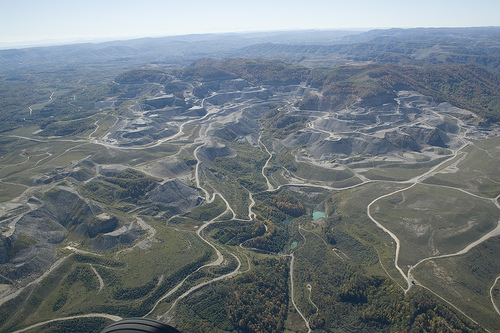 (www.kentucky.com)
Developers are studying the potential to install tens of thousands of solar panels on a reclaimed surface mine in Pike County.
If the project becomes reality, it would bolster the economy in a place desperate for jobs and make the county — which long topped the state in mining coal — a key producer of renewable energy.
"This is really a history-making project for the region," said Ryan Johns, an executive with Berkeley Energy Group, a Pike County company involved in the idea.
Partners in the project are studying a complex that would cover several hundred acres and produce 50 to 100 megawatts of electricity, said former state Auditor Adam Edelen, who is involved in the project. It's not yet known how much it would cost to build the solar farm or how many people it would employ.
Edelen said the project would be the first large-scale solar array in Appalachia. At 100 megawatts, it would be the biggest solar energy farm in Kentucky.
Louisville Gas & Electric and Kentucky Utilities operate a 10-megawatt solary array in Mercer County, and East Kentucky Power Cooperative has announced plans for a 10-megawatt array in Clark County, said Kenya Stump, an assistant director at the state Energy and Environment Cabinet. Nationally, the average number of homes powered by one megawatt of solar power is 164, according to the Solar Energy Industries Association.
Berkeley is working with EDF Renewable Energy to explore the Pike County project, Johns and Edelen told the Herald-Leader on Monday.
Edelen, who formed a business consulting company called Edelen Strategic Ventures after leaving office at the end of 2015, said he and Johns are friends.
They came up with the idea for a renewable-energy project on reclaimed land held by Berkeley about a year ago and looked for a partner to help develop it. Berkeley once mined coal and holds title to thousands of acres of land.
Pursuing a solar project is not a bet against coal, but rather a way to keep producing energy, Johns said.
EDF is a subsidiary of a French company called EDF Energies Nouvelles that is a major player in the renewable-energy industry.
The company has developed 885 megawatts of solar projects in North America, Doug Copeland, development manager for the company, said Monday.
The potential for solar energy production is not as great in Eastern Kentucky as in the western end of the state, according to the National Renewable Energy Laboratory, but there are several reasons the project makes sense, backers said.
Berkeley's access to land is a plus, for example, and a solar array in Eastern Kentucky could more easily sell power to customers in the northeast, Copeland said.
The project would connect to the electricity grid through a regional transmission organization called PJM, which includes several states — Ohio, Pennsylvania and New Jersey — that require utilities to offer a certain amount of electricity from renewable sources, including solar and wind. Western Kentucky is not part of that territory.
By working with a local company such as Berkeley, "we have the opportunity to combine the strengths of both companies to bring jobs and economic development to Appalachia," Copeland said.
EDF would finance the project if studies show it is feasible, Johns said.
Edelen said he and Johns wanted a project that would help out-of-work coal miners.
The economy of the state's eastern coalfield has been battered by a sharp downturn in the coal industry. There are a variety of factors to blame, including competition from cheap natural gas for power-plant customers, the threat of tougher federal regulations to protect air and water quality, and relatively high mining costs.
In 2016 alone, coal production in Pike County and the region dropped 40 percent from 2015, and the number of coal jobs in the county went down 30 percent, according to the state Energy and Environment Cabinet.
"Bringing together major players in both coal and renewable energy to build a solar farm on a mountaintop removal site, creating opportunity for out-of-work miners, is a once-in-a-lifetime project," Edelen said.
Edelen said EDF and Berkeley have started environmental studies and are looking at potential sites. They are focusing on two large reclaimed pieces of land near Pikeville.
The partners have started the process of accessing the PJM grid, but the project isn't set in stone.
Putting solar panels on a reclaimed mine is a different engineering challenge. Some mined sites have needed significant work to compact the soil before construction.
Studies to determine whether reclaimed mine sites would work for the giant solar array are likely to take the rest of the year, Edelen said.
The partners also have to study whether the project could be built at a cost that would allow it to turn a profit.
But Copeland said EDF is serious about the project, and Edelen and Johns said the company has had crews in Pike County several times for initial work.
"If it can be done, we'll get it done," Johns said.