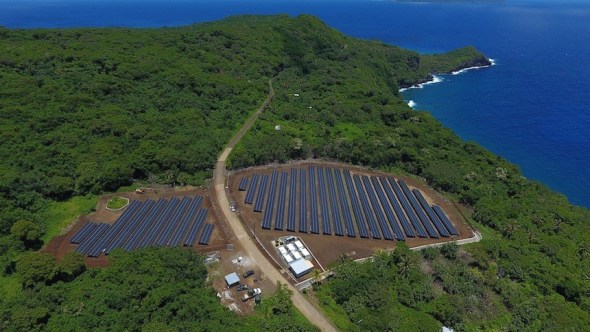 (www.accuweather.com)
Located over 4,000 miles from the west coast of the United States in the South Pacific Ocean, the island of Ta'u in American Samoa is powered almost entirely by the sun.
The island previously relied on diesel generators for power, but thanks to government funding and contributions from SolarCity and Tesla, the remote island operates on solar power, a cleaner and more cost-effective energy source.
Back in November, SolarCity announced in a blog post that a microgrid of 5,300 solar panels and over 60 battery packs had been completed on the island within a year's time. The solar panels can generate 1.4 megawatts of energy, while Tesla Powerpacks provide 6 megawatt hours of battery storage.
Unlike with diesel generators, which can lose power when powerful storms hammer the island, Ta'u's microgrid is able to store energy for several days, which is a huge benefit to the island of nearly 600 people.
Located in the South Pacific, American Samoa will get the occasional encounter from a tropical cyclone. Most recently, Tropical Cyclone Tuni hit the island chain in November 2015, causing significant property and crop damage.
American Samoa has a wet, tropical climate, with over 120 inches of rain falling per year, said AccuWeather Meteorologist Jim Andrews.
However, while solar panels are most effective in direct sunlight, they can still function when it's cloudy. Rain can be beneficial in that it helps keep panels operating efficiently by washing away dirt or dust, the Solar Energy Industries Association states.
The region still gets plenty of sunshine. Island resident Keith Ahsoon, whose family owns several stores on the island, told SolarCity that "it's always sunny out here" and being able to retain the sun's energy and not lose power will allow him to sleep "a lot more comfortably at night."
The Environmental Protection Agency, Department of Interior and American Samoa Power Authority, which operates the system, funded the project. The island was chosen as part of an initiative by the Manu'a islands, which include Ta'u, to become fully free of fossil fuel-generated electricity.
According to SolarCity, the project will offset the use of more than 109,500 gallons of diesel per year.
Ahsoon has seen the effects of climate change firsthand and said this endeavor will help lessen the carbon footprint around the world.
"Beach erosions and other noticeable changes are a part of life here. It's a serious problem, and this project will hopefully set a good example for everyone else to follow," said Ahsoon.