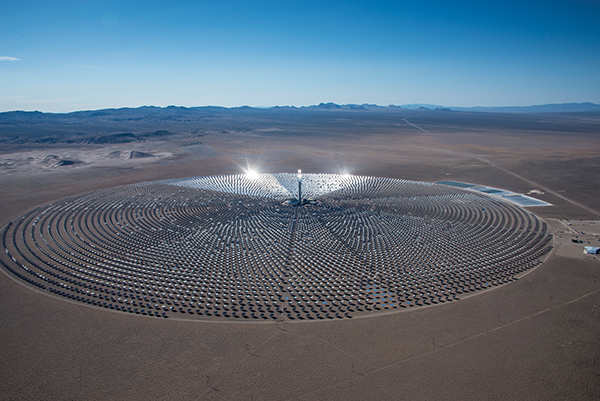 (www.powermag.com)
Three-and-a-half hours north of Las Vegas, in a rocky, desolate stretch of Nevada desert, an innovative solar-storage plant has nearly completed a year of commercial operations. It also may have delivered proof of round-the-clock dispatchable solar energy.
The Crescent Dunes Solar Energy Project, a concentrating solar power (CSP) plant built by Santa Monica, Calif.–based SolarReserve outside Tonopah, Nev., shares a lot of similarities with other solar-tower CSP plants like Ivanpah (POWER's 2014 Plant of the Year). Just over 10,000 billboard-sized heliostats, each about 1,200 square feet, focus sunlight on a central receiver at the top of a 640-foot tower. The plant uses the heat collected to generate steam and drive a turbine generator.
CSP is a straightforward and fairly well understood technology that's been around for more than a decade. The first utility-scale CSP plant came online in 2008, and several dozen of them are in operation around the world, mostly in Spain. Crescent Dunes isn't the largest CSP plant by any means—at 110 MW, it's less than a third the size of Ivanpah, the current leader.
What sets Crescent Dunes apart from its predecessors is that it incorporates 10 hours of full-power thermal energy storage—a total of 1.1 GWh. In terms of duration, that's more than earlier CSP-plus-storage plants like the Solana Generating Station in Arizona (a 2014 POWERTop Plant) that store around five to seven hours of generation, and far more than the largest battery projects currently in development, which top out at around 400 MWh. And unlike Solana, which circulates a heat-transfer fluid that is then used to heat molten salt, the receiver at Crescent Dunes heats the salt directly.
The molten salt system circulates the salt from a cold tank, through the solar tower, where it's heated from 550F to 1,050F, and then to a hot tank (Figure 1). Molten salt from the hot tank is then sent through a Nooter/Eriksen steam generator. The steam is sent through a turbine-generator, then to an air-cooled condenser, and back to the steam generator.
Round the Clock
The plant sells its power to Nevada utility NV Energy under a 25-year power purchase agreement (PPA). Since reaching commercial operations in November 2015, Crescent Dunes has—unlike Ivanpah—quietly exceeded its obligations, delivering 105% of contracted output. The molten salt receiver has achieved 100% availability through 2016, and performance data show that it's operating 2% above its expected efficiency.