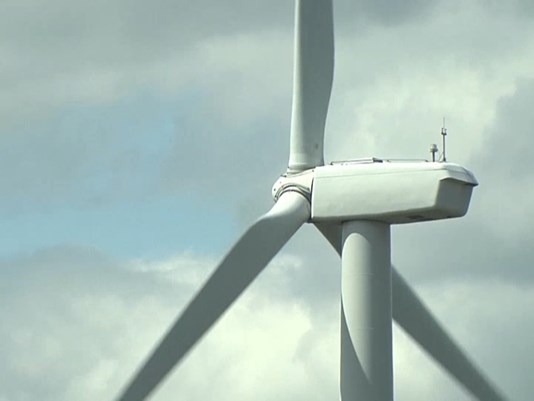 (www.kare11.com)
The nation's wind energy industry is surging, adding jobs at nine times the pace of the US economy as a whole. And Xcel Energy remains the top utility producer of that renewable source.
Those were among the trends announced by industry players in a State Capitol press conference that coincided with the release of the American Wind Energy Association annual report.
"We added over 14,000 jobs in one year, over 14,000 jobs hired in the wind industry," Tom Kiernan, the association's CEO told reporters. "Now we have over 100,000 men and women working in this industry, and that includes 25,000 in manufacturing."
President Trump last month signed an executive order loosening restrictions on coal burning power production, but in the Upper Midwest utilities are embracing wind as a lower cost alternative that also happens to be cleaner.
"The fuel of tomorrow is literally on sale today," Xcel Energy CEO Ben Fowke remarked, explaining that the technology is becoming more cost effective.
Currently 19 percent of Xcel's power across its eight-state service territory is derived from wind turbines, and Xcel expects that number to grow to 34 percent by the year 2021. And as wind energy becomes more efficient, it should translate to savings in customers' electricity bills.
Fowke said investments in transmission capacity has also made it easier to add wind power to the grid and draw on that source when production is peaking. It's one of the reasons Xcel is moving ahead with more wind farms.
"I look at wind as a fuel, so I might have to have that natural gas plant on the ready. But if I'm not firing up with natural gas, and instead I'm letting wind — which is more economical — do it's work, then everybody benefits."
Kiernan conceded the wind generation industry has benefited greatly from federal and state policies and tax incentives intended to offset the high startup costs of wind power. He thanked Minnesota lawmakers who attended the press conference for their support of clean energy, and Congressman Tom Emmer who wasn't able to make it.
He said the wind industry is generally in agreement with the idea of phasing out those incentives over a five-year period, as long as the rules aren't changed to the advantage of competing energy sources.
Chris Brown, the president of Vestas Americas, which manufactures turbines and blades, said wind power is in a much stronger position now than it was a decade ago.
"From our perspective wind energy will be here," Brown told reporters. "We'll have to compete with solar, we'll have to compete with natural gas. We say bring it!"
The booming wind sector has also meant more jobs for those who install the wind turbines, and the companies that build the transmission infrastructure.
One of those companies, Minnesota based Blattner Energy, is riding the wind energy wave.
"Wind power's steady growth and policy stability helps Blattner create thousands of new American construction jobs at our projects throughout the US," Doug Fredrickson, Blattner's vice president of operations, said.